NEW from The Legend of Ponnivala…an interactive ebook for the iPad that goes beyond traditional e-readers.
The first of our interactive ebooks for iPad have arrived, and are ready for you to download online and through Apple's iBookstore!
Series 1, Books 1-13, are now available in Tamil. CLICK HERE for more…
Click the image to see the video preview and demo: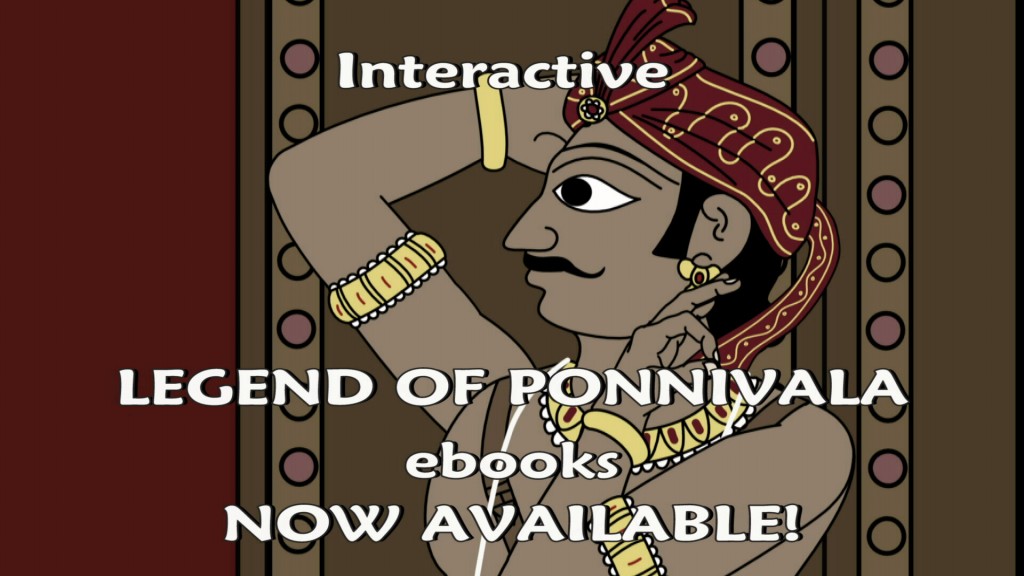 Imagine exploring the land of Ponnivala with a single touch, discovering the sights and sounds of ancient India through the unique flavor of these digitally rendered graphic comics.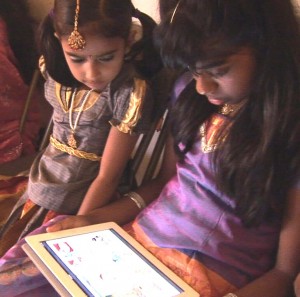 With standard ebooks, you can probably expect things like:
smooth page turns;
scalable page and text size,
and page rotation for different reader orientations.
Our new interactive ebooks have all of these features, plus a host of new and innovative elements.
Here are just some of the ways you can enjoy these interactive ebooks:
audio narration (by professional voice actor Sumit Bhatia);
text highlighting (follow along with the text as it's being read);
optional manual / auto page turning;
balloon jumping / repeating (tap any balloon to re-read it, or to skip ahead in the story);
and more!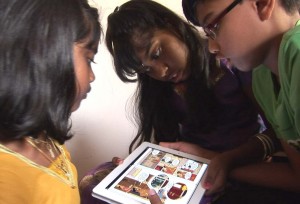 Plus, each interactive Legend of Ponnivala ebook comes with embedded video clips from the animated series. With a tap of the video icon, the page springs to life in high-definition animation. This is a first in Apple's iBookstore marketplace, and adds a whole new dimension of sight, sound, and colour to the comic books. Videos can be played full-screen, and playing a video pauses the narration, which then picks up where it left off. The embedded video player includes full control of volume and playback (in full-screen mode), and only plays on its native page–once the page turns, the video stops.
Despite all of these impressive features, each ebook is extremely light weight. At just under 40 MB, these books download quickly, won't overtax your iPad's runtime, load easily, run extremely smoothly, and don't take up a ton of storage space. The whole first series of 13 ebooks weighs in at about 500 MB, which is surprisingly lean for so many volumes with embedded audio and video.
To order your copy of The Legend of Ponnivala interactive digital ebooks for the iPad in English, CLICK HERE.
To order your copy of The Legend of Ponnivala interactive digital ebooks for the iPad in Tamil*, CLICK HERE.
*Due to publishing language restrictions, the Tamil edition is currently not available on the iBookstore. See THIS PAGE to find out more. For the time being, we will send your order to you directly using WeTransfer. Simply download the file directly to your iPad, and it will install as an iBook.